Homeschool Art Curriculum ArtAchieve for All Ages
There is no right or wrong when it comes to making art. Making sure that you have fun is the most important part. Splash a little paint, draw a little line. Just make sure that you have fun each and every time.
–Mickey Mouse
Time and time again, art falls by the sidelines at our homeschool. It's not that we don't enjoy art, for we do. We love it!  Rather, doing art seems kind of elusive in a household full of geeks. The good news is, we found ArtAchieve! This online program makes art approachable for the common folk like us. It's so easy to just sit down and splash a little paint, draw a little line. All while having fun each and every time!
The Goodies We Received
ArtAchieve gave us a free subscription for a full year for the entire Level I bundle. In exchange, I am sharing with you now my thorough and honest review of this excellent online art program.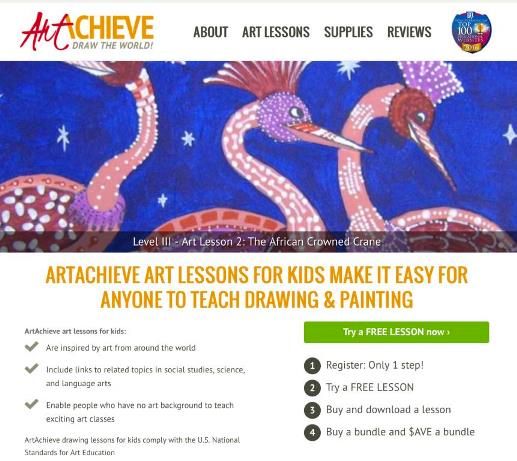 What's ArtAchieve All About?
The brainchild of university professor John Hofland, ArtAchieve teaches young children through adults how to draw and paint. ArtAchieve has many levels of instruction: I, II, III, IV, and V.  The lessons revolve around folk paintings or art pieces from around the world.  John Hofland offers both for each lesson, a Power Point presentation, and a video. You need not use the two, just choose one. Though we did check out one presentation, the video is by far a better choice.  Don't get me wrong, the presentation is top-notch. But you just can't beat the power of video.
The Lesson
Videos last about half an hour. But, you do need to pause it now and then to catch up and to finish your own painting. In all, it takes about an hour to complete a project. Once you've printed the warm up and the drawing's outline, you're ready to begin.  I will walk you through the video lesson. Let me pick one very near and dear to my heart: The Dragonfly from Ecuador.
Welcome
After a warm welcome, John shares a brief overview of what you will learn.  –"This lesson covers opaque and translucent colors, and warm and cool colors."  He talks about the art piece itself, what local artists did to achieve a particular effect, or how it came about.  Then, backed up with gorgeous photographs, he briefly mentions interesting scientific facts about the dragonfly.  All along, he poses questions to entice your participation. His warm and friendly tone motivates you to keep a conversation going.
Materials
He lists the materials, showing each in front of the camera or making quick demonstrations.  The same list appears written in the lesson's outline as well. Still, I think you'll appreciate his comments and suggestions, especially if you're a beginner.
Relaxation
Before beginning John wants you to get relaxed. You will enjoy your art session even more.  He explains why it is important to relax and encourages you to pause to do so as often as needed. He also invites you to play some soothing, nurturing music while you draw or paint.
Drawing Warm Up
You need the printout you got at the beginning.  Remember, the warm up? He instructs you to remind yourself the nature of each line you're drawing. –"Now, I'm drawing a curve. Now, I'm drawing a second curve. And this is a straight line."
Rules for Drawing
Neat truths that are good to know, or to be reminded of.  –"It's okay not to like your drawing. Draw for yourself, not your teacher or others. There's no right or wrong."  And so forth.   (After the first few videos, you might like to skip these, though.  That's what we did.)
Drawing
Now you need the second printout: the drawing outline. You'll use this for reference, although you'll still see everything on the video. He starts by asking you to trace an imaginary line on the blank paper, or a long curve, or small circles.  –"This is where the dragonfly's body will appear on the paper, then its wings, then here will be its eyes."   Moving your fingers over the paper, gives you a great sense of proportion and balance.  He continues showing where to place your fingers based on what you're viewing in the original drawing.
Next, you draw … with a sharpie! What? No erasing?  Yep, no erasing.  Yikes!  Its purpose: to teach you to think and consider, before making any marks.  You plan ahead by visualizing and tracing them first.  Meanwhile, John encourages you to bring your own ideas and creativity. –"I will draw criss-cross lines. You can do that, or zig-zag or parallel lines, or whatever you prefer."   I like that!  Very thoughtful, don't you think?
Coloring
John introduces the art media, oil pastels and watercolors in this case. He demonstrates some strokes, like light, solid, etc.  Using a scrap of paper which he recommends to have along, he indicates a few pastel and watercolor techniques. Then he begins to paint while he continues to impart tips or instructions. Again, he encourages you to follow your own creative ideas as he moves along.
Reflection
He concludes with questions to stir further interest, feelings or observations.
How We Used ArtAchieve
Both of us have been doing ArtAchieve together. I love our ArtAchieve time and so does Super Hero. I love to begin with the relaxation exercise and to play soothing, inspiring music while we draw and paint. A few times, I felt the tension in my shoulders melting away. So, I'm glad this bit is part of the lessons. John Hofland's warm, friendly style is easy to follow for 10 year-old Super Hero, and me, too.  I'm positive even much younger children would feel comfortable with him as well.
I like that the videos include cultural and scientific tidbits about the animals. And I love that the lessons tie in geography, history, literature and even writing. Geography and history, in particular, couldn't be a better fit for Super Hero. He loves those subjects. ArtAchieve allows him to learn more about those while creating art at the same time!  So far, we read about the Czech Republic, Hungary, Haiti; and we even checked out more nuggets about my home country, Ecuador.
Our Opinion of ArtAchieve
We both love it!  The around the world focus has proven a fabulous way to learn the basics of drawing and painting.  The thoughtful cross-curricular links make a nice round off to the lesson. Best of all, they're optional, just have the child pick whatever's most appealing.  Or ignore them. Either way, you'll get a juicy art lesson. John Hofland's instruction is excellent, I especially appreciate his prompting us to follow our own ideas and creativity.  The lessons are easy and simple, yet they may be elevated to any level of posh and polish.
I also appreciate this curriculum is extremely affordable. Level I lessons cost $4 each, but you can get the entire bundle for only $27 for one year. The price increases a bit (and gradually) as the levels go up.  But again, the bundles or partial bundles remain within reach for even tight budgets. Also, the materials required for Level I surely already fill every homeschooler's shelves. John often uses simple crayola markers and paints in his demonstrations. Of course, you may use a higher caliber brand if you wish. But again, since this program targets young children, the selection couldn't be more appropriate. (Not that young children can't be given higher quality stuff, but because crayola's usually their perfect match, being washable and nontoxic and all.)
As usual, Super Hero did the ratings. Open and Go was the only item that got 4 stars. Unless you have an art studio set up in your homeschool, (my friend Nicole does –Hi Nichole!) you do need to gather the supplies. Otherwise, ArtAchieve is as Open and Go as it gets.
In a Nutshell
Open and Go!

Easy Prep

Kid Approved

Fun

Quality

Pedagogy
In Super Hero's Own Words
I like it because it's easy and simple and fun!
–Super Hero
A delightful, ageless program for kids ages 5 to 105. I'd say just about anyone can follow along totally sure that having fun is the most important part. Wouldn't you think of it? ArtAchieve helping you heed the advice of none other than the quintessence of drawing, painting and fun himself, our friend Mickey Mouse 😉
Want to Learn More?
If so, my fellow Crew members reviewed the first three ArtAchieve levels: I, II, and III. You do not want to miss those. Also, do visit ArtAchieve's website and social media accounts. While you're at it, make sure to download a free lesson. There's one or two available for each level.
Facebook: https://www.facebook.com/Artachieve
Twitter: https://www.twitter.com/artchieve  @artachieve
Pinterest: https://www.pinterest.com/artachieve/
Google+: https://plus.google.com/+artachieve
Instagram: https://www.instagram.com/johnahofland/


Disclaimer
I received a free copy of this product through the Schoolhouse Review Crew in exchange for my honest review. I was not required to write a positive review, nor was i compensated in any other way. All opinions are my own or those of my family. I am disclosing this in accordance with the FTC Regulations.