No Mess Kids Art Tempera Paints
I wonder how many times I've passed up on art work at home just to avoid having to clean the mess afterwards. Granted, Super Hero is no longer a small kid, so he's not prone to mess making anymore.  Still, hearing about no mess, quick-drying tempera paints sounded like an idea too good to pass up.
What We Received
The Pencil Grip, Inc. sent us Kwik Stix, a 12-tube pack of solid tempera paints for us to enjoy. We received the paints free of charge. In return, I am now posting my complete and honest review of the product. Aside from the official 12-tube pack to be reviewed, I received a pencil grip, and an extra red tube of Kwik Stix. Such thoughtful little gifts from The Pencil Grip folks! Thanks guys!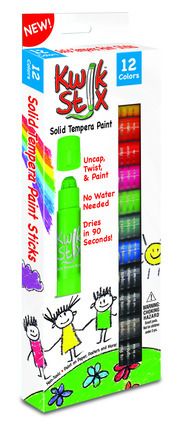 Simply Fun No Mess Kids Art Tempera Paints
Using Kwix Stix is as simple as it gets. No instructions, no assembling water, brushes, smocks, no covering the table and the floor, no prep. Just pull a decent, or not, sheet of drawing or art paper and your child is set. Talk about an undemanding approach to kids' art!
As you may have seen in the image, the paints come in a tube, much like a glue stick. They roll up and down also just like the glue stick. The consistency is similar to that of a lipstick, but not as creamy.
To start, we decided to create some Monet-inspired masterpieces, following one of our "art explorers" books for children.  I left Super Hero with the Impressionism art book, a pad of paper and the Kwik Stix paints while I run to Publix for a few minutes.  Roberto stayed with him supervising of course.  When I came back he had produced a most darling painting inspired by Monet's Garden At Sainte-Adresse.
Just as the label claims, there was absolutely no mess around (ahem… no more mess around 😉  ) What really caught my eye were the bold and vivid colors. These paints do pack a punch with such vibrant pigmentation. They sure brighten up any artwork, no matter how simple or elaborate.
Kwik Stix's smooth feel make the paints rather enticing to use.  Not only did Super Hero had fun with creative art work, he also applied the paints on his Anatomy coloring book.  Even such run-of-the-mill cranium looks artistic with those vibrant colors! Wouldn't you agree?  The paints do dry in 90 seconds, that's true too.  Though we only used Kwik Stix on paper, they are suitable on cardboard, wood and canvas.  Much fun still awaits us when we explore those mediums too.
I appreciated the quick-drying, particularly with his anatomy book. Even better yet, they don't bleed, though the paper wrinkled up a teeny tiny bit. With coloring geography, anatomy and the brain, we sure have been in a coloring book streak lately, so I'm crazy about bright paints that don't bleed through the pages.  Sadly, the tubes are too chubby for fine lines or small areas.  We could only use them for bigger coloring spaces. I quickly checked out Kwik Stix's website eager to find skinnier tubes, but had no such luck.  If they offered marker-type or finer tubes, I'd be the first to buy. So The Pencil Grip guys: if you're reading this, please consider offering us that option. Thank you very much 🙂
So, What's the Verdict?
Kwik Stix paints are a total no brainer. These chunky tubes offer awesome colors, they're super easy to use, they're quick as a wink to dry, they don't bleed through the paper, and they're really mess free. What's not to love about them? I, personally, prefer them over crayons anytime. Of course crayons have their place too, but they truly don't compare.
In a Nutshell
Open and Go!

Easy Prep

Kid Approved

Fun

Quality

Pedagogy
In Super Hero's Own Words
I like them because they dry fast, they paint well, and they make good art.
–Super Hero
If you're looking to brighten up your kids' art work, I totally recommend these chubby paint tubes. Perfect for little -and big- hands!
Can't Wait to Enjoy Them?
Go ahead and give these a try. Chances are your children will love them too.  At $11.99 they are very affordable. You can buy them at Kwik Stix's site or at Amazon.
Still Want to Learn More?
If so, there's plenty more reviews from my fellow Crew members. Or just pay The Pencil Grip folks a visit at any of their social media accounts. That'll give you an immediate feel for what they're all about:
Facebook:  https://www.facebook.com/thepencilgrip
Pinterest:   : https://www.pinterest.com/KwikStixPaint/
Twitter:  https://twitter.com/ThePencilGrip @ThePencilGrip