Out of the Box Games ~ Educational Games Encouraging Communication and Creative Skills
Reviewing Homeschool Curriculum is fun, but reviewing games?  Plain "funner"!
What We Received
We received the educational game Snake Oil Party Potion by Out of the Box Games for free, in exchange for my complete and thorough review. Snake Oil Party Potion is suitable for children 8 and up. It can be used with those as young as 6 if they are reading. It retails for $14.99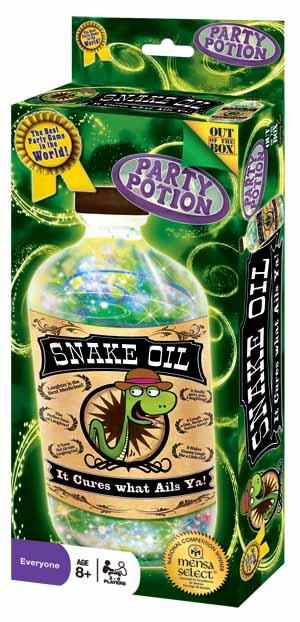 What to Expect
Snake Oil is a multiple award-wining educational game created by Jeff Ochs. Mr. Ochs is a teacher, director of Breakthrough Saint Paul, an academic enrichment and college access program. Through Snake Oil he aims to promote the following skills:
Creativity and innovation
Oral presentation skills
Empathetic persuasion strategies
Comparing, contrasting and evaluating skills
Improvisation skills
Vocabulary-building
Social skills
Risk taking
How We Used Snake Oil Party Potion
I'm sure we would have enjoyed the game just fine, had the three of us played alone. But, I wanted us to make the best of it playing with more friends.  I'm so glad our first experience playing Snake Oil Party Potion was shared with dear friends.  The rules require at least 3 players, but I say, the more, the merrier, and I think all our player friends agree.
There are two types of decks: the "word cards" and the "customer cards". Each player receives 6 word cards and one selected player takes 1 customer card and shares it with everyone. Then in no particular order each of us must describe the "customer" using only 2 word cards.  The player who is the "customer" at that moment, must choose the best (fitting) description.  The player whose word cards were chosen as best customer description, gets to keep the customer card.  We all take turns being the "customer" in a clockwise direction.  After everyone's been the customer, whoever has the most "customer" cards is the winner.
The rules are pretty simple.  Certainly the word cards are important to make the game more dynamic, but the game's strength lies on the creativity it encourages.  After each round you replenish the word cards, and must come up with a new description with whatever cards you draw.  You must form a suitable description of the customer that's "sellable".  We all found ourselves trying to sell our creations by defending and elaborating on our points of view, even if sometimes, it was totally "out-of-the-box"  😉
Our Opinion About Snake Oil Party Potion
Snake Oil Party Potion is a fun game. Both, kids and adults, liked and enjoyed it. The game was short and to the point. Everyone knows who's winning shortly after beginning the game. The quick pace motivated the children and encouraged them to come up with even more creative descriptions.  The game is also quite flexible, you can bend the rules to make it last longer, if you wanted to. Or you could allow 3 word cards for even goofier description combinations, more creativity, and more vocabulary practice.
Here's a video summarizing our playing experience and the players' feel for Snake Oil Party Potion. Nothing beats hearing a first-hand account or direct testimonial, right?

In a Nutshell
So, What's the Scoop?
Open and Go!

Easy Prep

Kid Approved

Fun

Quality

Pedagogy
The Nitty Gritty
Yes, I would recommend Snake Oil Party Potion! It's fun, it's quick, it's flexible. It encourages creativity, promotes vocabulary-building, and fosters communication and "marketing & sales" skills. You gotta sell that description to the customer! Kids and adults very much enjoy it. Good 'ol fun family game, 'nuff said! 🙂
What to Learn More?
If you'd like to read more reviews from my fellow Crew members you may click on the banner below. Or you can visit Out of the Box's website or social media accounts:
Facebook: https://www.facebook.com/OutoftheBoxGames
Twitter: https://twitter.com/OTBgames
YouTube: http://www.youtube.com/watch?v=lYAQiV5S9ZQ&feature=c4-overview&list=UUTEAg1uDVwq0LNxFAwM7N5Q