Once again, we're thrilled to share with your our experience with HomeSchoolPiano, an online piano lessons program for young or old, which we received for free, in exchange for my thorough and honest review.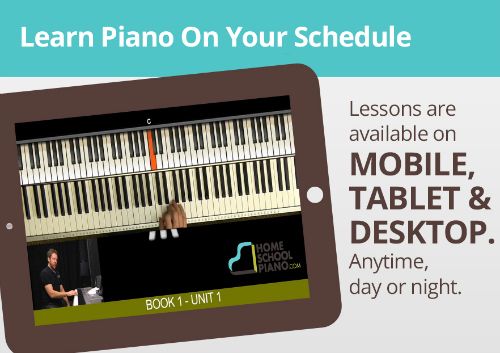 HomeSchoolPiano is a subscription based online program to learn piano at home. The subscription entitles up to 5 members of your family to use the complete set of books, that is Core Piano, Book 1, Book 2 and Book 3. These cover the basics up to fairly advanced music concepts with a mastering method that involves technique, rhythm, ear training, improvisation, song playing, and reading.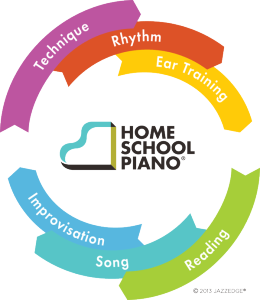 There are two payment packages:
Success Package (One payment of $299)
Unlimited life-time access to HomeSchoolPiano along with all bonuses (downloads, jam tracks, sheet music) for up to 5 students.
Payment Plan (Payments of $99.97 per month for three months)
Unlimited life-time access to HomeSchoolPiano along with all bonuses (downloads, jam tracks, sheet music) for up to 5 students.
What We Received
We received the truly generous lifetime subscription to HomeSchoolPiano's complete set of books.   Even before being granted access to the program, Roberto and I, were already appreciating the program and HomeSchoolPiano's largesse.  Talk about good first impressions!
What to Expect with these Homeschool Piano Lessons
Willie Myette, HomeSchoolPiano's owner and instructor, is a graduate of Berklee College of Music. He's an accomplished pianist and musician, who has performed in stages throughout the United States and Europe.  Aside from this homeschool piano program, he also owns and operates JazzEdge.com, JazzKids, and PianoWithWillie.
Willie's very knowledgeable of music and piano, and knows how to impart it. He conveys not just enthusiasm for the piano, but plain passion as well.  And as we all know, learning from a passionate person, is a sure way to get motivated, and  to likely grow a deeper interest in the subject matter.
The material is very well organized.  I appreciated the layout of the videos: A frame featuring him (Willie) delivering the lesson on the left bottom corner, the keyboard in the middle, a digital keyboard on top, and his logo & brand on the opposite bottom corner.  The supporting material is accessible at all times, and overall, it's visually attractive.
The initial section, CorePiano, is an extensive intro to all basics. Willie gives good pointers and analogies to help you understand clearly and to remember things more easily.  Topics covered on CorePiano include:
notes and the musical alphabet
how to sit at the piano and how to "grab" the keys,
guideposts, steps and skips, ties and slurs
sharps, flats, the natural symbol
and many, many more basics –33 videos in all, ranging from 3 to 12 minutes
The lessons themselves appear in "Books 1, 2 and 3". Each book comprises 6 units. Each unit covers the methodology outlined earlier, some of these have a quiz in addition to the video explanation/demonstration:
technique
rhythm
ear training
reading music
song
improvisation
bonus
You need Internet to access the lessons.  You may either watch the streaming video online or you may download videos, audios and PDFs if you wish.
How We Used HomeSchoolPiano
Although Super Hero has been taking piano lessons for nearly 3 years, he decided he wanted to review CorePiano first, before jumping into Book 1 (or Book 2, maybe even Book 3). Thus, we both followed CorePiano together.
Super Hero breezed through CorePiano. He had the chance to answer some questions to me.  –"Where is G again?" –"And what was this symbol here?" …   It made him feel good to know he knew more than mom, and I was only too happy to oblige.  😉
The video lessons are accessible via our Mac, laptop, and, iPad (we didn't use the iPhone, but we could have).  Speaking of iPad, we now do use it for an ever growing number of curricula, games, books, audiobooks, apps, and goodness knows what else.  How we ever managed to live without it baffles me. Oh, but I digress.  As I was saying, HomeSchoolPiano is a very portable program, and that's a real plus!  We watch Willie in our homeschool room where we have the keyboard. We watch him in the living room where we have the piano. We took some quizzes on the sofa.  And of course, we revisited videos anytime. Super Hero got a kick out of playing them on slow motion or super fast.
The quizzes appear after some of the videos.  You can take a quiz as many times as needed,  until you hit "reveal the answer". Once the answer is visible, you're done. Unfortunately, Super Hero learned this unintentionally, and he got stuck with a "no pass" on his first quiz.  Willie: if you can put a warning somewhere that this happens, it will likely avoid breaking another child's heart!  I'm not kidding! He was crushed. Especially because he felt quiz 1 on book 1 was "way too easy".  I know, this is obvious to me, but it wasn't so for a child who's not that used to quizzes and tests.
Downloadable PDFs complement each of the books. It is useful to have them printed and ready to follow along with Willie. And, much like any other online learning program, HomeSchoolPiano has a parent area too. Here you can see all the lessons covered and progress made by the family.
Our Opinion of HomeschoolPiano.com
HomeSchoolPiano has given me the ability to learn piano comfortably.  Super Hero's still reviewing material he already knew. However, Willie incorporates improvisation skills into his lessons that are new to him.  He will be able to learn new material fairly soon, but in the meantime, he's reinforcing concepts and cementing learning, particularly when he "needs" to explain them to me.
During some of the days we used HomeSchoolPiano, Willie and his team performed some enhancements to the website. Naturally, when major updates such as these occur, the server is bound to be inconsistent for a little while (or longer). Once the dust settled though, we were pleased with the improved video player that allowed us a better learning experience.  Things like being able to see the length of the video right of the bat (kind of insignificant, but you'd be surprised how refreshing it is to know for how long the movie will run). Rewind or fast forward with no buffering, and Super Hero's favorite: fast or slow mo!
Even though the program is advertised for kids (and adults) of all ages, I wouldn't consider it to be a good fit for very young children, say preschoolers, kindergartners, first and maybe even second graders.  Willies videos can be a little long sometimes (13 minutes or so), with no "cute" characters or doodads to hold a wiggly kid's attention.
In a Nutshell
I found HomeSchoolPiano to be a top-notch piano learning program for children and adults. For kids 8 and older, I say. And the pricing … you just can't beat $299 for a lifetime of learning for 5.  I'm happy we had the opportunity to use it, and will definitely continue to do so until we're done with all the books.  I can't wait to continue to learn to play this beautiful instrument with Willie.
Want to Learn More?
Read more experiences with this program from my fellow Crew members. Or visit Willie at HomeSchoolPiano or at his social media accounts:
Facebook: https://www.facebook.com/HomeschoolPiano
Twitter: https://twitter.com/jazzedge
Pinterest: http://www.pinterest.com/jazzedge/