Super Hero and I had the opportunity to use the award-winning writing program WriteShop. We received WriteShop Primary's Book C –the elementary writing curriculum, for free, in exchange for my thorough and honest review. The truth is we're not new to WriteShop. When we first started homeschooling, we used WriteShop Primary's Book A (about two years ago.)  Being a rookie homeschooling mom, I quickly got overwhelmed with the sheer number of curricula and activities I had gotten hold of.  In time, I had to place some things on the sidelines for fear I'd end up in a nut house –and drag the poor kid along!  WriteShop was one of them.  Eventually, Super Hero asked to continue with WriteShop for he liked it, and missed it.  We did resume it and finished Book A.  Well, that about sums it up already. What better recommendation than the very child requesting it?   Of course, this is a review of WriteShop Primary's Book C, not A, so here we go.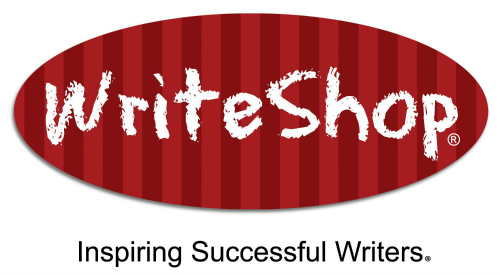 WriteShop offers writing programs for children as young as kindergartners all the way to high-schoolers:
WriteShop Primary: Grades K-3, introduces writing through one-on-one instruction using games, crafts and picture books.
WriteShop Junior: Grades 3-5, introduces genre writing using solid pre-writing, editing and grammar skills.
WriteShop I: Grades 6-10, provides a solid foundation in description, informative and narrative writing.
WriteShop II: Grades 8-12, expands on WriteShop I's skills.
What We Received
We received the complete digital PDF files for both, the Primary Teacher's Guide, Book C, retail price $29.50; and its corresponding Activity Pack, retail price $4.50.  Both of these eBooks are also available in print version.  Book C is recommended for children in second and third grade, and it may also be used by reluctant fourth graders.

You may download a free Book C sample.  Also, this placement chart and how to choose your child's level article can orient you to your child's best match, if you're interested in WriteShop Primary.
What to Expect with WriteShop Primary Book C
WriteShop Book C comprises 10 lessons:
Planning a story
Writing a mystery
Self-editing
Journal writing
Descriptive writing – Describe a thing
Descriptive writing – Describe a person
Descriptive writing – Describe a place
Writing a book report
Wriitng a report
Writing a research report
Each lesson offers 8 activity sets, one such activity set is to be completed daily.  WriteShop's strength is its predictable routine. Both the child, and the parent, know exactly what's coming every day.  The plan for each lesson is as follows:
Day 1: Activity set worksheet
Day 2: Guided writing practice, and pre-writing activities
Day 3: Guided writing practice, and brainstorming
Day 4: Guided writing practice, and writing the first draft
Day 5: Guided writing practice, and editing & revising the first draft
Day 6: Guided writing practice
Day 7: Guided writing practice, and publishing the project (the final draft)
Day 8: Guided writing practice, and evaluating the child's work
The program's quite flexible. You may follow any suggested schedule, ranging from twice to four times per week. Of course, there's nothing to prevent you from doing it every weekday, should you feel so inclined. Useful suggestions appear in the beginning of the book on how to properly set up your writing space or center to facilitate your work as a teacher. There are also tips on how to nurture the child's learning, or attitude toward writing. Most supplies, you'll either already have or can adapt from things at your home. These are things like glue, index cards, markers, crayons, folders, stickers, construction paper, writing/lined paper, a file box, a three-ring binder, etc. For the few items you may not already have, a trip to Staples or Target, or even the dollar store will likely suffice.
The Teacher's Guide does an excellent job in hand-holding you through each activity set.  It will alert you when there's advanced prep needed both, at the beginning of each lesson at an "at-a-glance" view, and naturally, later on during the actual activity.  Many such advanced prep can, at times, be a bit time-consuming. This wasn't a major deal though.  Certainly nothing that would deter me from fully completing the activity or lesson.
Sprinkled throughout the Teacher's Guide, appear insights from parents who've used the WriteShop. They contribute tips on implementing the lesson. They share what worked with their children, or how they modified it to make it even better. These tried and true insights make such a neat enrichment to the program.
How We Used WriteShop Book C
As instructed, we start with our guided writing practice first, before the actual activity, or writing exercise.    The Teacher's Guide emphasizes it be completed in 15 minutes or less. During this segment, Super Hero's free to dictate to me if he wants to, which he does 100% of the time.  We use lined newsprint for this exercise, which I later file in his writing binder.  Indeed, the guided writing practice has established a writing routine on Super Hero's mind. He's come to expect his ideas to be transferred to the paper. He's gradually building more complex thoughts, and thus richer sentences completely resistance-free. He now feels sure he needs only to dictate those to me.
WriteShop Primary relies on simple, kid-approved teaching aids. For example, a paper plate depicts the story ingredients. All necessary to deliver a full, engaging story. We refer to our story ingredients plate constantly, and always keep it nearby.  We also created a "spelling book" –a folder with frequently misspelled words which Super Hero is free to consult at any time.  He seems to really enjoy referring to it, for he does so often, even when I know he already knows a word.  The spelling book is a work in progress, we're always adding more such words as we go along.
A downright huge hit with Super Hero has been the Lloyd pointer –and the Thomas and Turtle pointers.  I attached a Lego piece of one of his favorite Ninjago characters, to the end of a broken water shooter toy.  The novel pointer is such a simple idea, it's hard to imagine the enthusiasm it generates. Each time I take out Lloyd, or Thomas, or Turtle to point out the things we write, Super Hero giggles. He's eager to take part, wishing to point and read or write himself.   Absolutely no complaints with that  😉
Each lesson uses different props throughout the various activity sets.  During the first brainstorming activity set, we used index cards. I labeled each with one of the story elements, then he filled them accordingly. To spice it up a notch, I printed magnifying glasses to spot story details.
I created a set of these magnifying glasses to share with you. If you think you'd like to use them, feel free to download these printable magnifying glasses, and please let me know if you do by leaving a comment below 🙂
Super Hero's most beloved teddy bear, Teddy, is his favorite "editing buddy". Having his trusted friend tag along during this step makes it a reassuring event for Super Hero.  Suddenly, editing's as easy as pie to take on.
The final project consists of a craft that features the published writing. These age-appropriate crafts succeed in keeping the interest and enthusiasm high.
Our Opinion of WriteShop Primary
"WriteShop's fun, I like that I get to play with Lloyd, Teddy and Thomas. And I like the secret file, because it's secret! We get to do lots of crafts that are fun … I think there should be more games, like if you spell a word wrong, you lose, that type of thing."
Straight from the horse's mouth, this testimonial captures Super Hero's sentiment for WriteShop completely!  I, too, think WriteShop Primary is an engaging and enjoyable age-appropriate way to approach writing.
I must confess that at first, I didn't quite understand the crafts' value. Still, I heeded WriteShop's recommendation to follow along, and I'm so glad I did.  Not only are these seemingly unimportant crafts original and creative by themselves. They, in fact, represent the culmination of Super Hero's writing project.  It warms my heart to see him "playing" with them even off lesson times. I can't help but gleaning feelings of pride and satisfaction with his "published" works.  For any mom, this is awfully gratifying to behold!
With its assortment of teaching aides (fun pointers, editing buddies, secret files, etc.) WriteShop succeeds in lessening reluctance to writing.  Super Hero's beginning to write longer stories more quickly and confidently.  I appreciate his writing is developing bit by bit. WriteShop's Primary gradual and oh-so-gentle approach has been ideal for a boy who'd much rather do science or math, than to sit down to write.
In a Nutshell
Yes, I do recommend WriteShop Primary, especially if your child is a reluctant writer.  WriteShop likely requires much more preparation than the average writing program, I dare say. Yet, its creative and so incremental nature make learning how to write such a pleasant and plausible endeavor.
Ready to Learn More?
If you wish to learn more about this excellent writing program, feel free to read more WriteShop Primary & Junior reviews from fellow Crew members. You can also visit WriteShop's social media accounts:
Facebook: https://www.facebook.com/writeshop 
Twitter: https://www.twitter.com/writeshop
Pinterest: http://www.pinterest.com/writeshop/boards/
Instagram: http://instagram.com/kimkautzer 
Google+: https://plus.google.com/+Writeshop/