As part of The Old SchoolHouse Review Crew, Super Hero and I have had the opportunity to use and review KinderBach, an online piano program for young children up to age 7.   In order to do this, we were given a free 6-month membership to "The KinderBach Online Piano Lesson Membership with Teacher Corner" in exchange for my honest review.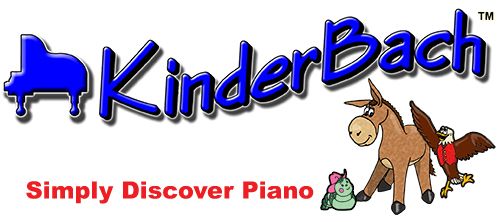 KinderBach's Nitty Gritty
KinderBach was created and founded by music educator Karri Gregor. It is designed for families with children between the ages of 3 and 7, although 2 year-olds through 9 year-olds are encouraged to try it also. It is a gentle program that introduces music concepts and theory through stories, songs and fun characters. It relies on videos full of cartoons or other lively animations, as well as PDF coloring pages and music sheets to be downloaded and printed.  Aside from the computer, you can access the online lessons through an iPad, android tablet, kindle fire or nook.
There is a total of 6 levels, each with 10 weeks of instruction organized in a very clear and visual format. Each week has 4 sessions, and each session has a 4 to 10 minute video with the accompanying PDF worksheet or music sheet. Although the PDFs and videos look professionally produced, the resolution itself of the videos is rather poor whenever we expand it to full screen viewing.
KinderBach Strenghts
Poor-resolution-at-full-screen aside, the video content flows quite clearly and smoothly. Not every video follows this exact same sequence, of course, but here's a breakdown of level 6, week 51, session 3's video as an example:
First, Karri introduces the lesson to the child. She's upbeat and enthusiastic and offers positive words and encouragement along the way, i.e. remember this?, you can do this!, you're right on!, excellent!, etc. A mixture of real and illustrated objects and graphics, backgrounds, music and sounds spruce up the video and make it child-appealing.
Then Karri walks the child through every element of the music sheet, pointing to and explaining every note or symbol.  Each element also has a marking right behind it or underneath it to enhance learning and recollection. For example right behind the quarter note D, there's Dody, the donkey. (Dodi and the rest of the fun characters are introduced earlier during the first weeks of the course).
Last, there is a nice close-up of Kerri's hands playing the song as she follows the music sheet, which is simultaneously displayed and animated on the top corner of the video.
With such detailed instruction and with the ability to adapt to each child's own pace and timetable, KinderBach offers an excellent opportunity for learning.  It is obviously a very visually oriented program, however, it also encompasses a variety of listening and hands-on activities, making it suitable for all learning styles.
Another big advantage to this program is that the parent or instructor needs not have any music background to use these lessons.  They are all very self-explanatory and easy to follow.  All you need is your computer or mobile device and your keyboard.  Of course, if you'd like to print the lessons, you'll need a printer too.  I'm very selective with what I print though, setting the laptop close to the keyboard or piano worked just fine for reading the music or following along. And, since Super Hero doesn't really care much for coloring pages anymore, I didn't need to print those.  Although I must say, the coloring pages weren't just cute or busy work, they were an integral part of the lesson. For example when Karri introduces high and low sounds, the child is to listen to the sounds on the video, and she must color the apples high on the tree or low on the ground.  
The Teacher Corner
The "Teacher Corner" gives access to downloading lesson plans, teaching aid templates, stories, coloring and song books for all levels. I didn't really use these materials at all. This would be an excellent resource for a classroom setting at a school or a co-op, but not really for learning at home, particularly not when there's only one child to teach.  Still, I appreciate the availability of this resource, it shows the extent of KinderBach's dedication to her community of young students.
To Sum Up
I was really hoping to use KinderBach as a rich supplement to Super Hero's offline private lessons, but he became somewhat resistant to following this online program.  The fact is that he's been taking piano for two and a half years now so he found its material, even the level 6 material, just too basic at this point.  Had he been just getting started, the supplementation would have been right on target.  Also, despite KinderBach's encouragement for 8 and 9 year-olds to also give it a try, I think children older than 7 may find it a bit too "babyish".  Although, this program didn't work quite the way I had intended, I really believe this would be a great option for a young child wanting to get started on playing the piano. So if your child's younger than 7, and if you're looking for a convenient and affordable alternative to live, offline lessons, I strongly recommend the KinderBach online piano program. It's most certainly a very thorough program and very well put together. I truly believe a young child with no prior or little piano knowledge will enjoy it and learn a great deal from it.
If you decide to give it a try, you can start out with the free trial, which grants you access to 2 weeks, each with its complete 4 sessions.  Otherwise, the Yearly Online Membership Plus Teacher Corner is only $95.88 (special limited time pricing, usually $130) for your entire family, which is certainly much more affordable compared to live, offline lessons.
There are more reviews and experiences using KinderBach Online Piano Program for Young Children from other members of The Old Schoolhouse Review Crew. Please click on the graphic to view the complete list: